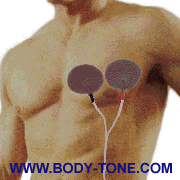 Differences between the types of TENS/EMS Stimulators
Click Here to view our 8 and 12 pad EMS Units
EMS Supplies (electrodes, wires)
Hi Terrie, I just wanted to send a quick "Thank You". I cannot possibly tell you the difference I feel in my body from the use of the EMS 4000. Besides a very noticable increase in vascularity, reduced cramping and pain, and an increase in finishing strength, I am particularly suprised by the overall confidence boost and liveliness that has spread through my body. You have a very proud lifelong customer. Thank you Terrie. Yours Truly, - Scott M., 12/1/2001
I have been attached to this unit since 1993---I can't live without it.....it's a wonderful little gizmo for chronic lumbar pain.- Stephanie C., Virginia
Ok I bought the 4000R about a month ago. I have had very good reults with it. I am gaining both size and strength with it. I boxed for 10 years so I am likely gaining back what I lost over time. - Keith M.
I am A power lifter and I use my unit after my workouts for a finiser on my routine. I have been useing it for years and have gotten some good results when used consistently. - Randy P.
Outstanding service and product ! You won't believe it until you get it! It's really awesome! Thank you ! - Steve D.
Product arrived in a timely fashion and works as good or better than my Chiropracter's stim. Doing a good job of working my abs. - Steve N., CO
I just recived my TENS unit I redered from you today and can't tell you how pleased I am with it. I tried a TENS unit on a 30 day trial basis locally and got great results but simply couldn't afford the high price tag. To rent a unit, the cost was $50.00 per month and to purchase it was $650.00. I think I got a great deal for $99.00 with the deluxe unit. And this unit has a 5 year warranty compared to the 1 year with the other unit I tried out. Being on a fixed income, I really appreciate the savings, great customer service and fast delivery. I'll refer others to you and buy other products as needed. Thanks so much! - Earl R., IN
I would like to get unbias recomendations from a sports therapist. I am eager to purchase, and just need this info... thanks. P.S. christopher reeves, a great guy, who i worked with recently, got me thinking about this...he is in amazing shape and completely paralyzed... - Steve D.
Hey Bruce you rock, I got the ems/tens lead wires, They work great! I recomended VitalityWeb to all my friends. Thanks for the great service and it was a pleasure doing business with you. - Mark M.
I have had my model 4000R for about two weeks now. Last week we had a heavy snow, and naturally I pulled my back out shovaling . So I hooked myself up to your machine, and what would have taken about a week and a half to heel, took about a two days using it about 15 min. Each day. When I tried it it worked just as well as the one my "back cracker" uses. Also I was very pleased with Terry who took my order over the phone, she was very helpful and called me right back to answer my question. Also the product was packed very well. Thank You!! for a quality product!! Ross S.
Ivan, thanks for the prompt shipping. The TENS units I ordered arrived in perfect shape. I compared your unit to the EMPI EPIX+ that I was renting from PT (which costs $500) and yours is much more versatile and adjustable. Yours has more power available, a factor for me due to my injuries and phantom sensations. Your unit is lighter and smaller, and as far as I am concerned, the 9v battery you use is a plus, since it lasts so long. Call me a satisfied customer! Thanks.....Chris M.
Products are very competively priced and of high quality.- Sam S., SC
A week ago I bought one of your EMS400 unit and its great, stronger than I expected!! - Charles S.
Hi`, I purchased an ems model 2000 from you last year. It's a terrific product and I have recommended it to others. thanx. - Brian B.
I received the muscle stimulator today and it is great. Thanks so very much for a flawless transaction. - Donna B.
Hi, I just bought a tens-unit from your company and it is the best product I have ever used to treat my chronic pain condition. It is absolutely wonderful!! Thanks for the quick shipping - Heather G., IL
They work great -- and I'm ordering more. I'm very pleased with them and the prompt filling of my order. - Joe R.
The product was just what I was looking for and it was at a reasonable price and shipped quickly. - Philip O, TX
My son, in Marine Corp, has one and swears by it, so I am sure I am going to like it also. Can't wait to try it myself. - Gaile T., NC
I want to thank you very much, for the speed in which you got the tens unit to me that I ordered. I was very surprised when our letter carrier delivered the package today. This will allow me to turn in the rental unit on Monday, that I was using and avoid paying for another month. The electrodes that I received from you are holding up much better than the type that I was able to get locally, and I might add at a cheaper price. Again, I want to thank you for such excellant service. Sincerly yours! Thomas K.
Dear Terri, I am pleased to advise that I have just received the VITAL EMS400. I would like to take this opportunity to thank you for your great service, interest and co-operation. Thanks again.....- Brian S.
I emailed you yesterday about the delivery problem. I received the EMS 400 unit yesterday (thanks to my neighbor signing for the package), and spent the time to read the instructions (which most people don't do), tried it and I LOVE IT!!! This thing is awesome! I totally recommend this unit to anybody (and I will). Thanks for all your help yesterday. - Jonathan J. M.
Thank You for such great customer service. I just got an e-mail from UPS (or was it from you, I'm not sure) with the tracing # and the e.t.a. What a nice change from previous experiences with other companies. I will put your website in my "Favorites" file and will look to purchase Christmas gifts from you in the future. Sincerely, Kim & Jim
Dear Vitalityweb, I just wanted to say a big thank you for sending out my order of TENS supplies so quickly! I suffer from a rare genetic disorder that causes severe pain and my TENS unit has become a lifelong friend of mine. The cost of your supplies can't be beat and the customer service was FANTASTIC! I can not thank you enough or show enough grattitude for what may seem like a simple *task* or *order* to you that has most definately meant the world to me! Thank you again! I will be sure to tell all my friends about your fantastic company! Regards Barbara H.
Bruce thank you for the reply, the competitors price was $375.00. I decided early on that I wanted to buy from you folks because you had done such a good job with the website. That was why I gave you last shot at my business. I suppose it doesn't matter whether it is Washington State or California that gets my sale. The information on your website is the finest on the web anywhere, and I've been reading it for two months I should be an expert. I've looked at UK units, Italian units, and all the far eastern units, they could all take a page out of your web page, both in terms of content, and also presentation. I wish you every success in the upcoming year, Happy Holidays, God Bless: Rev. Bill S.
EXCELLENT PRODUCT AND SHIPPING. VERY PROMPT AND AS PROMISED IN INFO. UNBELIEVABLE RESULTS IN ONLY 1 SHORT WEEK OF USAGE. HAVE RECOMMENDED TO MANY FRIENDS AND BUSINESS ASSOCIATES. THANKS - PAUL D., FL
The service representatives were helpful and friendly about making some changes to my order. Im really happy with the electric muscle stimulator and am using it regularly with no problems, my wife is also happy. Thanks! - Carlos V., PR
I don't send out thank you letters very often, in fact I don't remember the last time I did! You People deserve a BIG THANK YOU!!! ...for excellent service , delivery time, excellent web site structure, enough said? Keep up the good work. - John L.
Home | Product Index | Ordering information